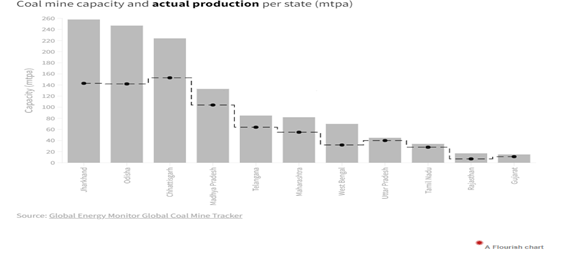 With only two-thirds of current capacity utilized, the Global Energy Monitor (GEM) report calls new coal projects under development 'unnecessary'.
Key points made in the Report:
99 of India's coal mine projects, under development, are
Opening new coal mines wouldn't be easing short-term supply crunch.
Coal mines under development threaten to displace at least 165 villages' families.
About 50% of the families live in areas where the predominant population is tribal communities.
Coal mines under development also threaten 22,686 hectares (ha) of agricultural land and 19,297 ha of forest.
The project is expected to consume at least 168,041 kiloliters per day, comparable to the daily water needs of over one million people.
Global Energy Monitor (GEM): It is a San Francisco-based non-governmental organization that catalogs fossil fuel and renewable energy projects worldwide.
These new mines will result in:
An increase in India's likelihood of stranded assets
Delay a clean energy future
Pose irreversible impacts on India's rural communities and environments
Not in sync with the net zero targets of 2070
Conflicting challenges from renewable sectors
The top five states in terms of total coal reserves in India are:
1. Jharkhand
2. Odisha
3. Chhattisgarh
4. West Bengal
5. Madhya Pradesh
State of India's coal sector:
India's 427 MTPA of planned new coal mine capacity is second in the world after China with 596 MTPA.
In Jharkhand and Odisha, the industry has over 100 million tonnes in unused capacity at active mining sites, amounting to over 40% of unused mine capacity in those States.
Coal supply-crunches:
Last year India experienced severe coal crisis coal stocks falling below the critical mark of 25% of the required stock.
It had led to power shortages in several States, including Andhra Pradesh, Jharkhand, Uttarakhand, and Madhya Pradesh.
Reasons for coal shortage in recent times:
Available coal cannot reach on time due to container shortages because of high imports and exports.
Rising industrial demand, and global price swings.
Resumed operations following the second wave of the COVID-19 epidemic, can be blamed for the unexpected increase in demand, resulting in a short supply of coal.
Russia's invasion of Ukraine had a significant impact on India's coal imports.
The Ministry of Coal is ultimately responsible for formulating policies and strategies regarding the exploration and development of coal and lignite reserves. Other important roles are carried out by the Public Sector Undertakings, Coal India Ltd. and its subsidiaries, and Neyveli Lignite Corporation India.