Russia joins the race to supply light battle tanks to the Indian Army
Context
Russia will field its Sprut-SDM1 light amphibious tank for the Indian Army's upcoming tender for light tanks.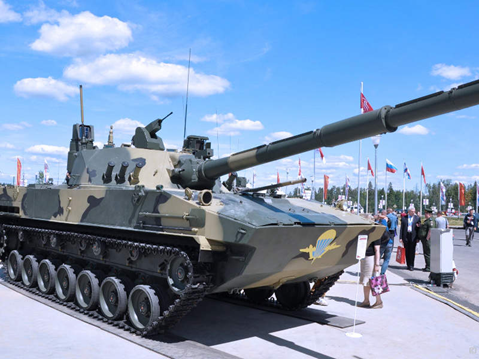 Details:
The project has received in-principle approval and is planned to be procured under the 'Make-I' acquisition category of the Defense Acquisition Procedure (DAP)-2020.

'Make-I' refers to government-funded projects while 'Make-II' covers industry-funded programs.
Make-I was involved in the development of big-ticket platforms such as light tanks and communication equipment with Indian security protocols.

This is in line with the 'Make in India' initiative.
The Acceptance of Necessity (AoN) from the Defence Acquisition Council is expected shortly.
Defense Acquisition Procedure (DAP) 2020: It enables the notification of a List of Weapons or Platforms that will be banned for import. It focuses on Foreign Direct Investment (FDI) in defense manufacturing and indigenization of the manufacturing prices. It also introduces several new ideas such as the need to incorporate artificial intelligence in platforms and systems, the use of indigenous software in defense equipment, and 'innovation' by startups and MSMEs (Micro, Small, and Medium Enterprises) as new categories of defense acquisition.
About Sprut-SDM1 Light Amphibious Tank:
Project Type: Light amphibious tank
Manufacturer: Tractor Plants Concern
Crew: Three
Length:08m
Maximum Amphibious Speed: 7km/h
Maximum Road Speed: 70km/h
Maximum Range: 500km
Armament and protection feature of Sprut-SDM1:
The primary armament of the tank is a 125mm gun fitted to the remote-controlled weapon station.
The secondary armament of the tank consists of a 7.62mm machine gun and a 7.62mm coaxial machine gun.
Guided missile weapon system: To defeat explosive reactive armour (ERA)-equipped targets and armoured fighting vehicles at ranges up to 5km.
Protection of the onboard crew from nuclear, biological, and chemical (NBC) threats.
Fire control system: A next-generation digital fire control system (FCS) is integrated into the amphibious vehicle.
Hydro-pneumatic type suspension system: It offers improved driving comfort over all types of terrain.
Other Capabilities:
Cross water obstacles and fire its gun while afloat
Disembark from a ship
Operate in high mountains in conditions of thin air, at very high and low temperatures.
Need for light tank:
After a standoff with China in eastern Ladakh, the Indian Army is prioritizing the procurement of a light tank, named 'Zorawar', for deployment in the mountains.
The army had issued a Request For Information (RFI) for the procurement of 350 light tanks weighing less than 25 tonnes in a phased manner.
Chinese deployments in eastern Ladakh (LAC):
Third-generation modern light tank ZTQ 15 (Type 15)
The latest ZTL-11 wheeled Armoured Personnel Carriers
CSK series of assault vehicles
Verifying, please be patient.