Six varieties of neelakurinji identified in Santhanpara region of Western Ghats
Context
Recently, a team of Experts has observed six varieties of Neelakurinji in the the Western Ghats which indicated the need to conserve the ecosystem for them and their habitat.
About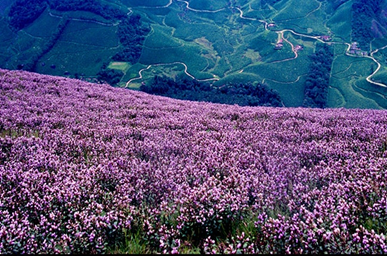 Neelakurinji is flowers that are believed to bloom every 12 years.
They grow at an altitude of 1300 to 2400 meters.
Neelakurinji or 'Strobilanthes kunthiana' blooms in 40 or so varieties, a majority of them being blue in color.
'Neela' literally translates to 'blue' and kurinji is the name given to it by the tribals of the area.
Last seen in 2018, the time for viewing them begins in August and lasts up to October.
Prime Minister Narendra Modi also referenced the neelakurinji in his Independence Day speech in 2018, a year when the neelakurinji was in bloom.
In Munnar District, these flowers bloom across the region of Kovilur, Kadavari, Rajamala, and Eravikulam National Park.
Alongside Strobilanthes kunthiana, the types of neelakurinji flowers that have been identified from the hill ranges include;

Strobilanthes anamallaica,
Strobilanthes heyneanus,
Strobilanthes pulnyensis, and
Strobilanthes neoasper.

All these neelakurinji species are endemic to the Western Ghats and spread over nearly 200 acres of the Kallippara hills.
In fact, the neelakurinji population here can be considered one of the biggest of the species after the protected areas of Munnar.
Significance:
The first settlers of Kodaikanal hills, the Paliyan and Puliyan tribes are believed to have used the Neelakurinji blooming cycle to calculate their age. With every new bloom, the members of the tribe added 12 years to their age.
Kurinji flower is used to describe the associated mountainous landscape where it blooms in Sangam Literature classical Tamil literature.
Verifying, please be patient.
Our Centers
DELHI (Karol Bagh)
GS SCORE, 1B, Second Floor, Pusa Road, Karol Bagh, New Delhi - 110005 (Beside Karol Bagh Metro Station Gate No. 8)
BHUBANESWAR (Jaydev Vihar)
GS SCORE, Plot No.2298, Jaydev Vihar Square, Near HCG Day Care, BBSR - 751013
LUCKNOW (Aliganj)
GS SCORE, 2nd Floor, B-33, Sangam Chauraha, Sector H, Aliganj, Lucknow, UP - 226024