International E-Waste Day
Context
In a recently released 5th annual International E-Waste Day data, it has been found that hoarding small, unused, dead, or broken plug-in and battery-operated products creates One out of every six products of electronic items, ending to generate e-wastes in the average European household.
About
What is E-waste?
E-Waste is short for Electronic-Waste and the term is used to describe old, end-of-life, or discarded electronic appliances. It includes their components, consumables, parts, and spares.
It is categorized into 21 types under two broad categories:
Information technology and communication equipment.
Consumer electrical and electronics.
Key Highlights of the assessment:
International E-Waste Day is held on October 14 every year as an opportunity to reflect on the impacts of e-waste.
The theme for the year 2022 is 'Recycle it all, no matter how small!'.
Of 8,775 European households in six countries, the average household contains 74 e-products such as phones, tablets, laptops, electric tools, hair dryers, toasters, and other appliances (excluding lamps).
The top five hoarded small electronic products were:

Small electronics and accessories (e.g., headphones, remotes),
small equipment (e.g., clocks, irons),
small IT equipment (e.g., hard drives, routers, keyboards, and mice),
mobile and smartphones,
Small food preparation appliances (e.g., toasters, grills).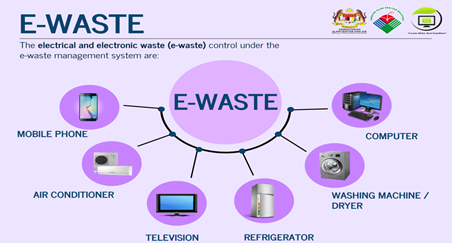 Global Scenario:
Waste Electrical and Electronic Equipment (WEEE) Forum is an international association of 46 e-waste producer responsibility organizations.
The forum released the results of surveys conducted to reveal why so many households and businesses fail to bring in for repair or recycling.
The results were consolidated by the United Nations Institute for Training and Research (UNITAR) Sustainable Cycles Programme.
Mobile phones/ smartphones have valuable gold, copper, silver, palladium, and other recyclable components.
India and E-Waste regulations:
Laws to manage e-waste have been in place in India since 2011, mandating that only authorized dismantlers and recyclers collect e-waste. E-waste (Management) Rules, 2016 was enacted in 2017.
India's first e-waste clinic for segregating, processing, and disposal of waste from household and commercial units has been being set-up in Bhopal, Madhya Pradesh.
According to the Central Pollution Control Board (CPCB), India generated more than 10 lakh tonnes of e-waste in 2019-20, an increase from 7 lakh tonnes in 2017-18. Against this, the e-waste dismantling capacity has not increased from 82 lakh tonnes since 2017-18.
In 2018, the Ministry of Environment told the tribunal that 95% of e-waste in India is recycled by the informal sector and scrap dealers unscientifically dispose of it by burning or dissolving it in acids.
Government Initiatives for E-waste management:
Initiatives such as
Extended Producer Responsibility;
Design for Environment;
(3Rs) Reduce, Reuse, Recycle technology platform for linking the market and facilitating the circular economy aim to encourage consumers to correctly dispose of e-waste.
Agencies responsible
National Green Tribunal (NGT)
Central Pollution Control Board (CPCB)
Verifying, please be patient.