NCRB data for 2021
Context
National Crime Records Bureau (NCRB) recently released statistics of crimes in India 2021.
About
Key Findings of the latest report:
Cybercrimes:
The national capital in 2021 witnessed a 111% increase in cybercrime as compared to the previous year.

According to the data for 2021, most of these cases involved online fraud, online harassment and publication of explicit content among others.
Crime against women:
The NCRB report shows that the rate of crime against women (number of incidents per 1 lakh population) increased from 56.5 per cent in 2020 to 64.5 per cent in 2021.

A majority of these cases (31.8 per cent) fall in the category of "Cruelty by husband or his relatives'', followed by "Assault on women with intent to outrage her modesty" (20.8 per cent), kidnapping and abduction (17.6 per cent), and rape (7.4 per cent).

According to the report, the highest rate of crime against women in 2021 was registered in Assam (168.3 per cent), despite a marginal dip over the last three years.

Nagaland stood out with the lowest number of crimes against women registered in the past three years — 43 in 2019, 39 in 2020 and 54 in 2021. It also had the lowest crime rate against women for 2021 at 5.5 per cent.

Among Union Territories, Delhi had the highest rate of crime against women in 2021 at 147.6 per cent.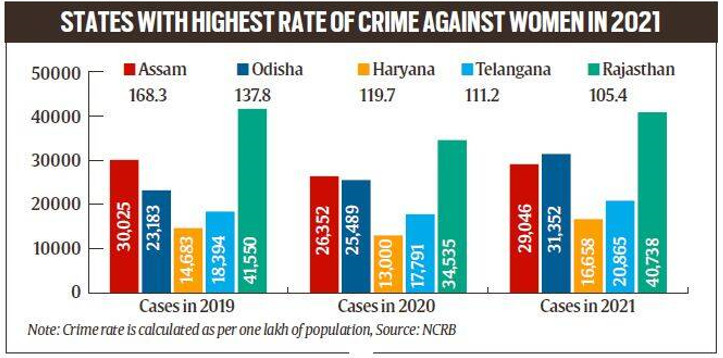 Rape Cases:
Most of the rape cases have been reported from Rajasthan during 2020 and 2021 from across the country.

It shows that Rajasthan reported the highest number of rape cases at 5,310 and 6,337 in 2020 and 2021, respectively.

Madhya Pradesh came a distant second in terms of rape cases in 2020 and 2021 with nearly same numbers.

Rajasthan, Madhya Pradesh, Maharashtra, Uttar Pradesh and Assam are the five states where most of the rape cases took place in 2020 and 2021, respectively.
Crimes against children
NCRB statistics show a 20% jump in cognisable crimes against children in 2021 compared to the previous year, making them vulnerable.

In the year gone by, 2,556 cases of crimes against children were registered under various sections of the Indian Penal Code (IPC) and special Acts and local laws (SLL) as compared to 2,121 cases reported in 2020.
Sedition:
76 cases for sedition were registered in 2021 in the country under IPC Section 124A, of which the maximum of 29 were in Andhra Pradesh.

For Andhra Pradesh, this was in sharp contrast to 2020, when no sedition case was recorded in the state. In 2020, 73 sedition cases were recorded across India.

In 2020, out of 73 sedition cases, the maximum 15 were reported in Manipur, followed by Assam (12), Karnataka (8), and Uttar Pradesh (7).

66 persons in sedition crimes and 1,317 under UAPA law were chargesheeted in 2021. While no one was convicted of sedition crimes in 2021, 62 people were convicted under UAPA.
Suicides:
In India, 1,64,033 suicides were registered in total in 2021, which is a 7.2 per cent increase from 2020's 1,53,052 cases.

Majority of suicides were reported in Maharashtra (22,207), followed by 18,925 suicides in Tamil Nadu, 14,965 suicides in Madhya Pradesh, 13,500 suicides in West Bengal and 13,056 suicides in Karnataka, accounting for 13.5 per cent, 11.5 per cent, 9.1 per cent, 8.2 per cent and 8 per cent of total suicides respectively.

Most suicides (2,840) have been reported in the Union territories' most populous territory, Delhi, then in Puducherry (504).

As per reports, most of the problems were associated with one's job or career, loneliness, abuse, violence, conflict in families, mental illness, alcoholism, financial loss, and chronic pain.
ABOUT NCRB
NCRB is nodal agency under Union Home Ministry for authentic source of data on crime on various parameters including accidents, suicides from across all the states of the country and prisons for policy matters and research.
It was established in 1986 as the central police organisation.
It is headquartered in New Delhi.
It also imparts training in Information Technology (IT) and Finger Print Science for Indian Police Officers as well Foreign Police officers.
NCRB publishes 4 annual publications on Crime, Prison Statistics, Accidental Deaths & Suicides and Finger Prints. These publications serve as principal reference points on crime statistics.
Verifying, please be patient.