Significance of NASA's Artemis mission
Context
NASA's Artemis 1 launch has been postponed due to a malfunctioning RS-25 engine on the Space Launch System (SLS) rocket.
About
Artemis Mission:
In Greek mythology, Artemis, the goddess of wild animals, the hunt, and vegetation, as well as of chastity and childbirth, was the twin sister of Apollo, the much loved god of music and divination.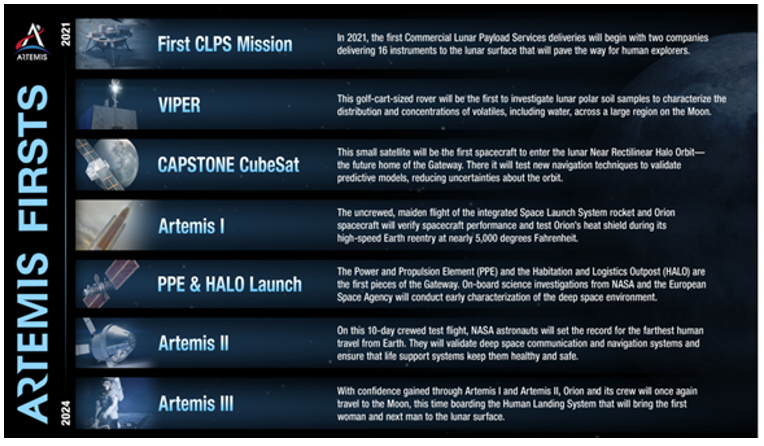 Significance of Artemis Mission:
NASA will land the first woman and the first person of colour on the Moon.
In the complex mission, astronauts will live and work in deep space and will develop the science and technology to send the first humans to Mars.

NASA is also hoping to jump-start companies looking to set up a steady business of flying scientific instruments and other payloads to the moon, and to inspire students to enter science and engineering fields.
Artemis I:
Artemis I will be the first integrated flight test of NASA's deep space exploration system: the Orion spacecraft, Space Launch System (SLS) rocket and the ground systems at Kennedy Space Center in Cape Canaveral, Florida.
The first in a series of increasingly complex missions, Artemis I will be an uncrewed flight that will provide a foundation for human deep space exploration, and demonstrate our commitment and capability to extend human existence to the Moon and beyond.

During this flight, the uncrewed Orion spacecraft will launch on the most powerful rocket in the world and travel thousands of miles beyond the Moon, farther than any spacecraft built for humans has ever flown, over the course of about a three-week mission.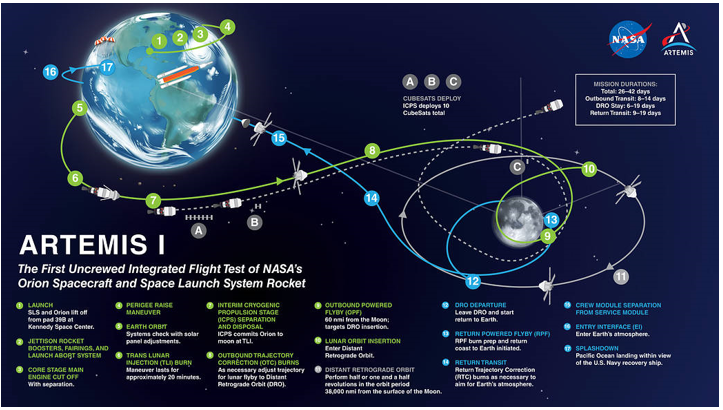 NASA's Space Launch System
NASA's Space Launch System, or SLS, is a super heavy-lift launch vehicle that provides the foundation for human exploration beyond Earth's orbit.

With its unprecedented power and capabilities, SLS is the only rocket that can send Orion, astronauts, and cargo directly to the Moon on a single mission.

According to NASA, all SLS configurations will similarly utilize a core stage with four RS-25 engines.

The Block 1 configuration uses twin solid rocket boosters and an Interim Cryogenic Propulsion Stage (ICPS). The ICPS will be used for the first three Artemis missions.

Later Artemis flights will use a mightier Exploration Upper Stage (EUS).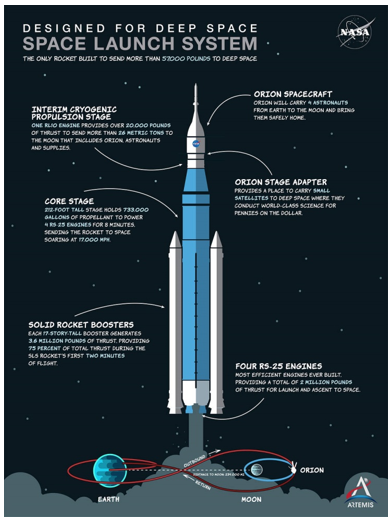 NASA's Orion spacecraft:
NASA's Orion spacecraft is built to take humans farther than they've ever gone before.

Orion will serve as the exploration vehicle that will carry the crew to space, provide emergency abort capability, sustain the crew during the space travel, and provide safe re-entry from deep space return velocities.

Orion will launch on NASA's new heavy-lift rocket, the Space Launch System.
Verifying, please be patient.