Sutlej Yamuna Link Canal
Sutlej-Yamuna is a proposed 214-kilometer (133 mi) long canal in India to connect the Sutlej and Yamuna rivers of which 122 km was to be in Punjab and 92 km in Haryana.
SYL canal was envisaged in 1976. Centre allocated 3.5 MAF of water to Haryana, 3.5 MAF to Punjab and 0.2 MAF to Delhi. Haryana constructed portion of SYL in its territory, and moved SC seeking direction to Punjab to construct SYL; then Punjab CM Parkash Singh Badal challenged validity of Section 78 of Reorganization Act.
Recently the issue came up as the Supreme Court has scrapped Punjab Termination of Water Agreements Act, 2004 which unilaterally allows Punjab to stop sharing Ravi, Beas waters with other States. Ruling in this regard was given by a five-judge SC Constitution Bench led by Justice Anil R. Dave. The SC bench gave its opinion on a Presidential Reference made by then President APJ Kalam in 2004 to the apex court under Article 143 (1) of the Constitution questioning the constitutional validity of the Act.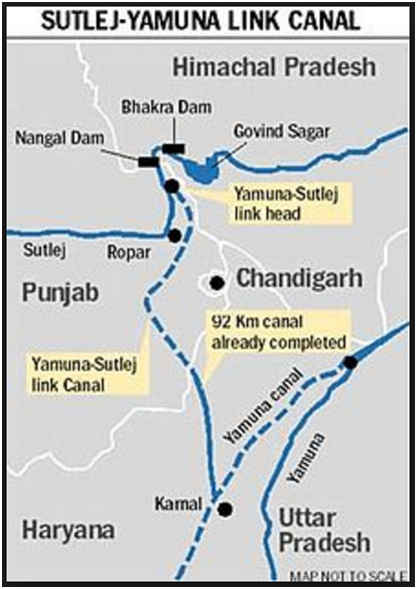 Direction of Supreme Court:
The law unilaterally enacted by Punjab was illegally designed to terminate a 1981 agreement entered into among Punjab, Haryana and Rajasthan to re-allocate waters of Ravi and Beas. By introducing the 2004 Act, Punjab defied two back-to-back apex court verdicts, pronounced in 2002 and 2004. Punjab exceeded its legislative power in proceeding to nullify the decree of this court and therefore. State Legislative Assembly cannot through legislation do an act in conflict with the judgment of the highest court which has attained finality.
Timeline of dispute
1966:
The creation of Haryana from Punjab in 1966 threw up the problem of giving Haryana its share of river waters. Since then, Punjab has opposed sharing waters of the Ravi and Beas Rivers with Haryana, citing riparian principles, and arguing that it had no water to spare.
1976:
After dividing Punjab, Union Government allotted Haryana 3 million acre-feet (MAF) of water of the Ravi and Beas in 1976.
1981:
CMs of Punjab, Haryana and Rajasthan signed an agreement for allocation of surplus Ravi-Beas waters in presence of Prime Minister Indira Gandhi. According to this agreement, available supplies of the Beas and Ravi Rivers were recalculated to be 17.17 MAF. Rajasthan. Jammu and Kashmir and Delhi got 0.65 MAF and 0.20 MAF.
1982:
Gandhi inaugurates digging of SYL canal at Kapuri in Patiala, leading to SAD launching its Dharma Yudh Morchas. To enable Haryana to use its share of waters of Sutlej and its tributary Beas, Union Government started Sutlej Yamuna Link (SYL) canal Project in 1982 to link Sutlej with the Yamuna.
July 24, 1985:
Rajiv-Longowal Accord signed, includes agreement to construct canal by August 15, 1986
April 2, 1986:
Eradi Tribunal for settling water disputes constituted. Submits interim report, Punjab files review; matter pending.
1996:
However, the work of canal was completely stopped after local political issues and militant attack on workers in Punjab. In 1996, Haryana approached Supreme Court for the early completion of the canal.
Jan 15, 2002:
SC tells Punjab to make canal functional in a year.
June 4, 2004:
SC asks Centre to take control of SYL canal works within a month and get it constructed from a central agency
July 12, 2004:
Punjab Termination of Agreement Act, 2004, passed, terminating the 1981 agreement and other agreements with non-riparian states for allocation of Ravi-Beas waters.
2016:
Ever Since, SYL has been a bone of content between Haryana and Punjab. But on 15th March, 2016, Punjab Assembly passed the Punjab Satluj-Yamuna Link Canal Land ((Transfer of Property Rights) Bill 2016 unanimously. This bill aims at transferring 3,928 acres of land free of cost to the original landowners. Punjab Assembly unanimously passes Satluj-Yamuna Link Canal Land (Transfer of Property Rights) Bill, 2016 to return 3,928 acres of acquired land. However, a five-judge Constitution bench of the Supreme Court has directed Punjab to maintain status quo. Supreme Court started hearings into a presidential reference to decide on the legality of the Punjab Termination of Agreements Act, 2004. The presidential reference was made by the Centre days after the Punjab Assembly passed the Act. As the hearings resumed, the Solicitor General, appearing on behalf of the Centre, took a pro-Haryana stance, saying the Centre stood by the SC's orders asking Punjab to complete the work on SYL in its territory. The development has triggered a political storm in Punjab. Punjab Pradesh Congress Committee (PPCC) chief Capt Amarinder Singh — who was Chief Minister when the 2004 Act was passed — had launched a blistering attack on the ruling Shiromani Akali Dal, the alliance partner of the BJP, which leads the government at the Centre, and had announced a march to protect Punjab's waters. Punjab demanded a fresh tribunal to ascertain the present flow of waters and decide the entitlement of each state on the basis of the rights of riparian and non-riparian states under national and international law. The Congress moved an adjournment motion in the Assembly on the issue, but the Akali Dal pre-empted the move, with Chief Minister Parkash Singh Badal moving a resolution against sharing any water, and the attempts to force Punjab to build the SYL canal.