Funds allocated for Telangana's Medaram Jatara Festival 2022
Context
Recently, the Ministry of Tribal Affairs has approved a budget of 2.26 crores for the India's second-largest fair- "Medaram Jathara 2022 Festivals".
Prior to this, the Govt has sanctioned ? 7.00 Cr in 2019-20 and ? 5.00 Cr in 2021-22.
Key-points
The allocated amount includes promotion of Medaram, Tribal Culture and Heritage, inclusive of the execution of the protection wall to the Sanctum of Chilakalagutta and Murals on the walls and so on.
Under the AzadiKa Amrit Mahotsav, the Government of India has announced that tribal culture and heritage will be the cynosure of 2022.
At present, the Jathara festival is biennially celebrated and organised by the Koyas in collaboration with the Tribal Welfare Department, Government of Telangana.
The Ministry of Tribal Affairs' continuous support of this festival aims to generate awareness and a harmonious bond between the visitors and the Tribal communities of Telangana.
Koya Tribe
Koya is a tribal group found in southern India, especially Chhattisgarh, Telangana and Andhra Pradesh.
Koyas are commonly referred to as Koi, Koyalu, Koyollu, KoyaDoralu, Dorala Sattam, etc.
Koyas call themselves "Koitur" in their dialect.
Koyas speaks Koya language, also known as Koya Basha, and is a member of the Dravidian language family.
The Koya are mainly settled cultivators and artisans, expertise in making bamboo furniture including mats for fencing, dustpans, and baskets.
They grow Jowar, Ragi, Bajra and other millets.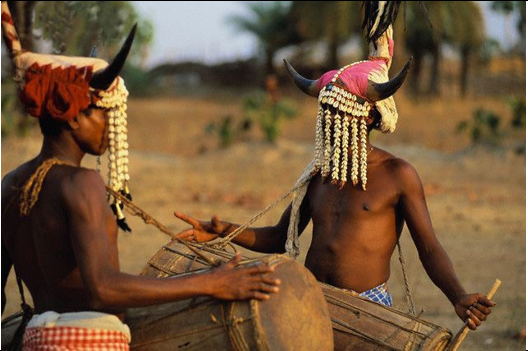 About Medaram Jatara
Medaram Jatara is the second-largest fair of India, after the Kumbh Mela.

This year it is being celebrated from 16th-19th February, 2022.

It is celebrated by the second-largest Tribal Community of Telangana- the Koya tribe for four days.


Considering the footfall of the festival and its auspicious significance, the Jathara was declared a State Festival in 1996.
Medaram Jathara is conducted in honour of the Goddesses Sammakka and Saralamma.
It is celebrated once in two years in the month of "Magha" (February) on the full moon day.
Several Scheduled Tribes of different villages assemble there, and lakhs of pilgrims visit the Mulugu District to celebrate the festival with full gusto.
Moreover, it assists the tribals to preserve their unique Tribal Traditions, Culture and Heritage and promote their tribal History on a global scale.

It is also an embodiment of the spirit of Ek Bharat Shrestha Bharat.
Ek Bharat Shreshtha Bharat
Ek Bharat Shreshtha Bharat

was announced on 31st October, 2015 on the occasion of the 140th birth anniversary of Sardar Vallabhbhai Patel.
Subsequently, the Finance Minister announced the initiative in his

Budget Speech for 2016-17

.
The Ek Bharat Shrestha Bharat programme, aims to actively enhance interaction between people of diverse cultures living in different States and UTs in India, with the objective of promoting greater mutual understanding amongst them.
Verifying, please be patient.