Geospatial Sector of India
Context
As India celebrate the first anniversary of de-regulation of the geospatial sector, it is important to assess its impact and identify the bottlenecks so that the full potential of the geospatial sector can be realised.
Background
The past decade has seen an increase in the use of geo-spatial data in daily life with various apps such as food delivery apps like Swiggy or Zomato, e-commerce like Amazon or even weather apps.
India has a robust ecosystem in geospatial, with the Survey of India (SoI), the Indian Space Research Organisation (ISRO), remote sensing application centres (RSAC)s, and the National Informatics Centre (NIC) in particular, and all ministries and departments, in general, using geospatial technology.
On February 15, 2021, the government of India released new guidelines to completely de-regulate the geospatial sector for Indians.
Since the declaration of the guidelines, there has been a lot of hype and hoopla about the geospatial sector.
Analysis
What is Geospatial technology?
Geospatial technologies is a term used to describe the range of modern tools contributing to the geographic mapping and analysis of the Earth and human societies.
It enables to acquire data that is referenced to the earth and use it for analysis, modeling, simulations and visualization.
Geospatial technologies include

Geographic Information System (GIS)/Spatial Analytics
Global Navigation Satellite System (GNSS) & Positioning
Earth Observation
Scanning
What is geo-spatial data?
Geospatial data is data about objects, events, or phenomena that have a location on the surface of the earth.
The location may be

static in the short-term, like the location of a road, an earthquake event, malnutrition among children
dynamic like a moving vehicle or pedestrian, the spread of an infectious disease

Geospatial data combines location information, attribute information (the characteristics of the object, event, or phenomena concerned), and often also temporal information or the time at which the location and attributes exist.
Geo-spatial data usually involves information of public interest such as roads, localities, rail lines, water bodies, and public amenities.
Components of geospatial technology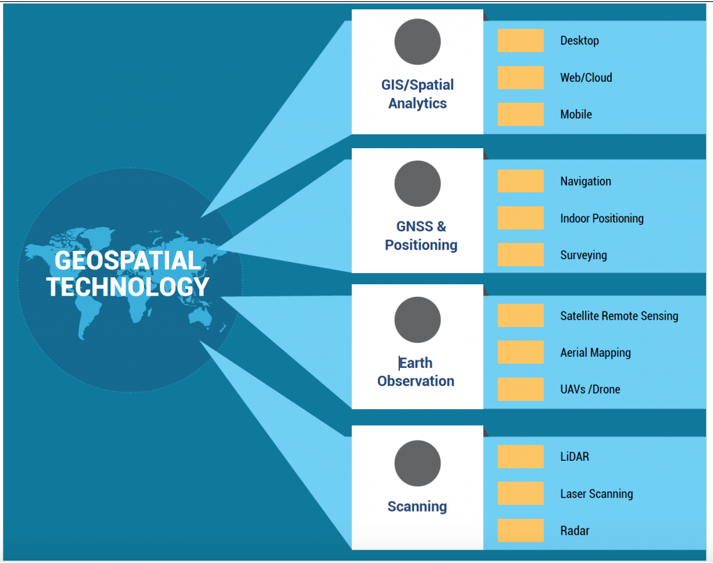 GIS /Spatial Analytics
The use of GIS/Spatial Analytics by various industries is only expected to go up in a market driven by increasing global demand for geographically correlated information. GIS can primarily be categorized into three types:

Desktop GIS: Software is installed onto and runs on a personal computer
Web/Cloud GIS: A desktop or mobile application allows the user to connect with the GIS server on the Internet. Running GIS software on Cloud allows a user to leverage the flexibility of the Cloud environment for data capture, visualization, analysis and sharing
Mobile GIS: Takes GIS technology out of the office and into the field on a mobile device like a smartphone or a tablet
GNSS & Positioning
GNSS or Global Navigation Satellite Systems has become such an integral part of our daily lives that it is almost impossible to do without them.
Be it surveying, navigation or indoor positioning, GNSS is the backbone of it all.
Earth Observation
Earth Observation, or remote sensing from space to surface, includes technologies like satellites in space, aerial photography (manned as well as unmanned flying vehicles).
Scanning
The scanning market comprises of Laser, LiDAR, Radar and Point Cloud from images – non-contact technologies that can digitally capture the shape of physical objects.
3D laser scanners create "point clouds" of data from the surface of an object or data about the surroundings.
India's geospatial market
Market growth: The Indian Geospatial market is expected to grow to INR 36,300 crore in 2025 from INR 23,345 crore in 2020.
Utilisation: Data generated from geospatial technologies can be applied to various sectors like infrastructure, manufacturing, health, agriculture, urban highway, and service delivery.
Drone Survey: Additionally, over 6 lakh villages in India will be surveyed using drones under the SVAMITVA scheme.
Mapping: The government also plans to produce 3D maps for 100 Indian cities.
SVAMITVA (Survey of Villages and Mapping with Improvised Technology in Village Areas)
Under the government's SVAMITVA scheme, geospatial technology along with Drones will survey all the over six lakh Indian villages.
SVAMITVA (Survey of Villages and Mapping with Improvised Technology in Village Areas) was launched by Prime Minister on 24th April 2020 as a Central Sector Scheme to promote a socio-economically empowered and self-reliant rural India.
The Scheme has the potential to transform rural India using modern technical tools of mapping and surveying.
It paves the way for using the property as a financial asset by villagers for availing loans and other financial benefits.
The Scheme will cover around 6.62 Lakh villages of the entire country during 2021-2025.
Liberalisation of sector: The recent liberalisation of geospatial data and services in the country have prompted good participation from private players.

The government has removed prerequisites such as getting licences or prior approvals as part of the liberalisation of geospatial data to promote Make-in-India solutions.
What are the issues in the sector?
Lack of demand: There is the absence of a sizeable geospatial market in India. There is no demand for geospatial services and products on a scale linked to India's potential and size.
Lack of awareness: This is mainly due to the lack of awareness among potential users in government and private.
Lack of manpower: There is lack of skilled manpower across the entire pyramid.
Unavailability of data: The unavailability of foundation data, especially at high-resolution, is also a constraint. The lack of clarity on data sharing and collaboration prevents co-creation and asset maximisation.
Conclusion
There is a huge potential in the sector and it is set to go for a long time. However, the persistent issues remain to be addressed, otherwise the benefits of technology alone would not suffice.
Verifying, please be patient.