World's first fishing cat census done in Chilika
Context
The Chilika Development Authority (CDA) recently informed that there are 176 fishing cats in Odisha's Chilika Lake.
About
About the census:
The Census was conducted in Collaboration with The Fishing Cat Project (TFCP).
This is the world's first population estimation of the fishing cat, which has been conducted outside the protected area network.
Spatially Explicit Capture Recapture (SECR) method was used to analyze the data.
The census by The Fishing Cat project was conducted in two phases.
In 2021, for the first phase, surveyors focused on the 115 sq. km marshland in the north and north eastern section of Chilika Lake.
The second phase of the fishing cat survey conducted in 2022 on the Parikud Side along the coastal part.
About the Fishing Cat:
The fishing cat is a globally threatened species found in marshlands, mangroves, flooded forests and other wetlands.
They are found in 10 Asian countries but have remained untraced in Vietnam and Java for more than a decade.
Wetlands are the favorite habitats of the fishing cat.
In India, fishing cats are mainly found in the mangrove forests of the Sundarbans, on the foothills of the Himalayas along the Ganga and Brahmaputra river valleys and in the Western Ghats.
West Bengal declared the fishing cat to be its state animal in 2012.
Authorities in Chilika also named the cat as the lake's ambassador in 2020.
Protection Status:
IUCN Red List: Vulnerable. Despite multiple threats, the Fishing Cat was recently down listed to "Vulnerable" from "Endangered" in the IUCN Red List species assessment.
CITES: Appendix II
Indian Wildlife Protection Act, 1972: Schedule I
The fishing cat is nocturnal and apart from fish also preys on frogs, crustaceans, snakes, birds, and scavenges on carcasses of larger animals.

Fishing Cat range Map: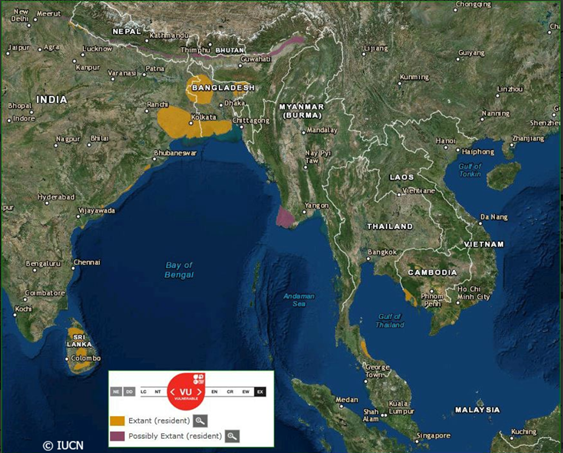 Importance:
The fishing cat, a Schedule I species according to the Wildlife (Protection) Act, 1972, generally indicates the health of wetland and coastal ecosystems, which are considered as one of the major safeguards against climate change.
Fishing cats are the apex predator in coastal areas.
If they survive, it means the area is climate-resistant.
Verifying, please be patient.
Our Centers
DELHI (Karol Bagh)
GS SCORE, 1B, Second Floor, Pusa Road, Karol Bagh, New Delhi - 110005 (Beside Karol Bagh Metro Station Gate No. 8)
BHUBANESWAR (Jaydev Vihar)
GS SCORE, Plot No.2298, Jaydev Vihar Square, Near HCG Day Care, BBSR - 751013
LUCKNOW (Aliganj)
GS SCORE, 2nd Floor, B-33, Sangam Chauraha, Sector H, Aliganj, Lucknow, UP - 226024