DATA STORY : THE GLOBAL INNOVATION INDEX (GII) 2021
Global Innovation Index (GII) Launched by World Intellectual Property Organization (WIPO), a specialized agency of UN. The theme of the year 2021 is, 'Tracking Innovation through the COVID-19 Crisis'. The index ranks 132 world economies on roughly 80 indicators grouped into innovation inputs and outputs. In Overall segment, India is ranked at 46th position in the year 2021.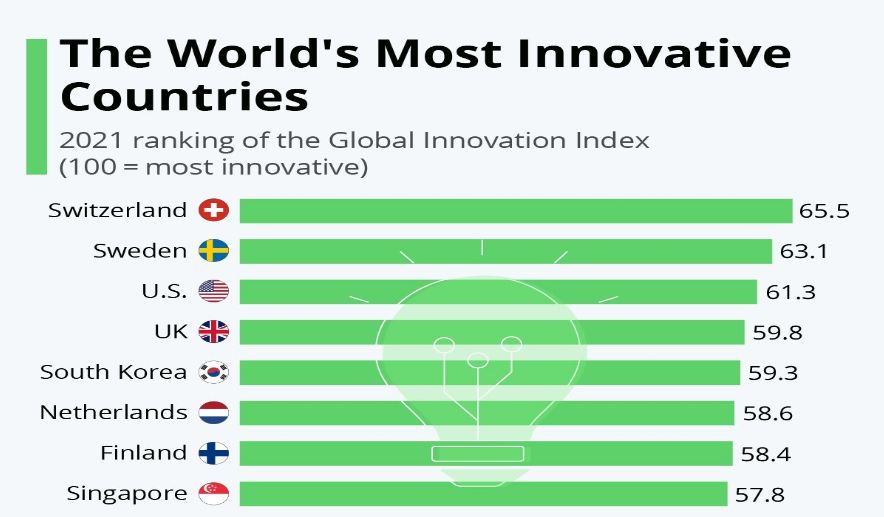 Key Findings:
India ranks second among 34 lower-middle-income group economies and first among the 10 economies in Central and Southern Asia. Relative to gross domestic product (GDP), India's performance is above expectations for its level of development.
According to WIPO, Graduates in science and engineering disciplines and global corporate research and development investors are India's strengths.
As for the Global Innovation Index (GII) edition of 2021, the index includes the impact of the COVID-19 pandemic along with the other indicators while tracking the recent trends in global innovation.
Parameter for Measuring:
This index is calculated by averaging the scores of two indices:
The innovation input index

The innovation output index.
These two sub-indices are composed of seven pillars (the innovation input index of five pillars and the innovation output index of two pillars).
The Global Innovation Index (GII) ranks the innovative performance of the economies each year by highlighting the strengths and weaknesses of certain innovation metrics. This index is based on the most recent global innovation trends and aims at measuring the innovation metrics based on indicators like
Political

Environment

Education

Infrastructure

Knowledge creation of the economies
These different indicators which are used to calculate the Global Innovation Index (GII) can also be used to monitor the performance of the economies and compare the developments of these economies with other economies in the same region.
Q. "India has been on a rising trajectory, over the past several years in the Global Innovation Index (GII)". Discuss the features and significance of the Global Innovation Index. (150 Words, 10 marks)