Drinking water in India is extracted from multiple sources across the country.



North India: In the arid regions of North India, groundwater is often the only source of drinking water. India possesses about 432 bcm of groundwater replenished yearly from rain and river drainage, but only 395 bcm are usable, out of which, about 82% goes to irrigation and agricultural purposes. Shimla is facing a major water crisis with limited access to water through tankers for drinking and livelihood purposes. As a result, schools remained closed and tourists were asked to stay away.
West India: The quest for access to clean water sources has led to extensive groundwater extraction in West India. Maximum depletion has been witnessed around Rajasthan, Haryana, Punjab, Gujarat, Telangana and Maharashtra. Latur area of Maharashtra witnessed drought in 2017, however, very little has changed on the ground. Sugarcane cultivation which is heavily dependent on groundwater for irrigation has not seen any major policy overhaul, neither has micro-irrigation practises such as drip or sprinklers been adopted.
Vows of drought prone Krishna basin
Inter-basin transfer is the massive diversion of water from the dry and drought-prone Krishna river basin in western Maharashtra to the high-rainfall Konkan region of coastal Maharashtra. While people in the Krishna basin suffered from recurring droughts and increasing difficulties in accessing safe drinking water, water was been diverted from to generate power for the city of Mumbai. Although in May 2016, Mumbai High Court announced a reversal of this inter-basin transfer, but no steps have been taken in that direction.
South India: Major cities including Chennai, Mysuru and Bengaluru are going through severe drinking water scarcity affecting both day-to-day life and Tourism. The scarcity is attributed to non functional bore-wells, inefficient water management, erratic weather patterns and insufficient supply to meet the excessive needs.
Living without water in Chennai
Following failure of monsoon, depleted groundwater table and dry reservoirs have led to Chennai facing its worst water crisis. The local bodies are facing challenges in supplying drinking water on a daily basis and residents rush with buckets to store water from tankers for entire week. Due to severe water shortage for drinking and livelihood purposes, the city's everyday life has come to a standstill, schools and hospitals have been badly affected, and industrial sectors have been slowed down. Dry reservoirs and major sources of water are making Chennai dependent on other water sources, such as stone quarries, agriculture wells, Neyveli corporation mines, etc
The State government plans to bring 10 million litres of water from Vellore by rail wagons and from Veeranam lake, which gets Cauvery water from the Mettur dam. There are also plans to write to the Kerala government requesting it to supply 2 MLD every day. Hence, neighboring states' cooperation along with Central assistance holds critical importance in bringing the city's water adequacy back to its optimal level.
Bengaluru's Imminent Water Crisis – A victim of misplaced priorities
A city once known for its lakes, Bengaluru's sources of safe drinking water have drastically shrunk. Absence of any word of caution from the Cauvery Tribunal has made matters worse. Instead, precious water was transferred from small towns and villages to this megacity hailed globally for its impressive strides in the IT and start-up space. A recent report highlighted that Bengaluru could be doomed, like Cape Town in South Africa, to face the threat of running out of drinking water. Bengaluru, despite not being in the Cauvery basin, has been awarded a total of 4.75 TMC (thousand million cubic feet) of water annually to meet the drinking water needs of its burgeoning urban population
East India: Although relatively less severe than North or West India, the drinking water sources in North Bihar, Jharkhand and West Bengal have also started to witness rapid decline. An estimated 5 million people are likely to be consuming water with concentrations of Arsenic greater than the national standard of 50µg/l, principally in West Bengal.
India is clearly reeling under a sustained water crisis that shows no signs of abating. In this context, NITI Aayog's Composite Water Management Index Report highlights the performance of major cities and ranked the states based on their water management capacity.
NITI Aayog's Composite Water Management Index Report - Performance of the states
India states have performed averagely on providing safe drinking water. As per the report, Gujarat topped the list in water management, closely followed by Madhya Pradesh and Andhra Pradesh. However, the lowest performers such as UP, Haryana, Bihar and Jharkhand are home to nearly half of India's population. While Jharkhand and Rajasthan may have scored low, they have made remarkable improvements when compared over two years.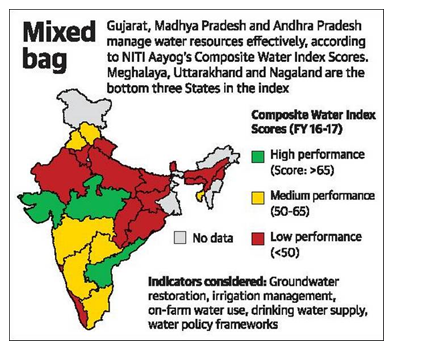 As per the Census 2011, Punjab is ranked the highest based on the percentage of households with access to safe drinking water while Kerala has the worst rank with 33.5% households having access.