How can I improve my Answer Writing Skills required in the Civil Service exam?
If you have given insight about the terminologies, the word is clearly indicating that, it is skill. It means that specific thing (Skill) you can acquire over the period of time by working on it.
Thousands of aspirants write mains exam and mostly all of them study similar material. So, how and what you need to do to get good marks and get call for interview.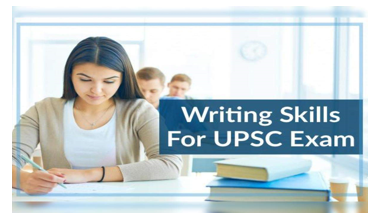 There is nothing such word called, perfect answer for specific question. However, there are certain thing which needs to be kept in mind of every aspirants to get good marks:
Analyse Previous Year Question Paper:
Aspirants are advised to go through the past five years' question papers to understand the breadth and depth of questions UPSC usually asks. It'll give you an idea to analyse the importance and non-importance of study material.
Based on the assessment of pervious year question paper, you can prepared yourself for the battle and take judicious decision accordingly.
Use Online Gadgets Like Internet:
Extensive use of Internet will give an added advantage, especially for topics like Science and Tech. The target should be focused upon gaining knowledge, either through books or Internet.
For all subjects, try to have linkage with current affairs, especially for GS Paper-2 and GS Paper-3. For both these papers, current affairs form the nucleus. You will inevitably do a lot of reading on the Internet, so always make a note to organize and highlight content like this.
Develop Habit of Reading Multiple Books:
Your marks in mains examination can improve exponentially, if you develop this habit of reading. You can add words in bucket which you can utilise in writing good answers.
When you read a newspaper or magazine, do focus on the written content and format style also. By readings, you can develop writing ideas in your subconscious mind. So, reading more is the first step in knowing how to improve answer writing in UPSC Mains Exam.
Work on your Structure of the Answer:
One of the most important thing which examiner looks in your answer is format i.e. Introduction, body, and Conclusion. Your introduction should be in the context of the main body part. Your main body should cover all the dimensions of the answers and your conclusion should reflect your opinion about the asked question.
Avoid using unnecessary jargons or technical terms:
You should always keep in mind that you should not write unnecessarily technical words and abbreviates which are not common. Also, make sure that you're your answer content should be direct and cover all angles of answers.
Writing unnecessary thing will not fetch your marks. But, it can deduct your marks for sure. Furthermore writing unnecessary thing give indication that you may have written all answers in your copy like this.
Attempt Mock Test:
Try to write your answers error-free as much as possible. Always make sure that your answers are free from grammatical and spelling errors. You can only write your answer error-free if, you attempt mock test as much as possible and most important thing is that you learn from your mistake.
If you judiciously attempt mock test then you can not only reduce the mistakes in your copy but also you will know the time frame in which you have to cover the entire question in your copy.
You need to write in a style that is good, neat, systematic, error-free, aesthetic, and one that shows your clean grasp of facts. If you are writing answers of Geography, then you should add revenant diagrams in your answers. You should always support your points with facts and figures to provide edge to your answers
Give adequate time for revision. Without it, you will not be able to recollect whatever you may have read. So please dedicate enough time to it, whether you are giving a mock test or the actual Exam.
Work on suggestions given above and try to replicate them. Slowly but gradually you will see yourself becoming more adept at this art. Always remember that mere knowledge is not enough to clear this exam, had it been this case of only knowledge gained person clearing IAS Examination then you would have found merit list full of scholars only. You should have this art to convince the examiner that you have good enough knowledge and ideas to be a good civil servant.