CSIR gets its first woman chief
Context
Dr N Kalaiselvi has become the first woman to be appointed Director General of the Council of Scientific and Industrial Research (CSIR).
About
About N Kalaiselvi: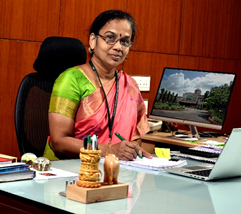 Hailing from a small town in Tirunelveli district of Tamil Nadu, Kalaiselvi has risen through the ranks in the CSIR and also became the first woman scientist to head the CSIR-Central Electrochemical Research Institute (CSIR-CECRI) in 2019.
She will also hold charge as Secretary, Department of Scientific and Industrial Research (DSIR) of the Ministry of Science and Technology.
Kalaiselvi's research interests include lithium and beyond lithium batteries, supercapacitors and waste-to-wealth driven electrodes and electrolytes for energy storage and electrocatalytic applications.
Kalaiselvi also made key contributions to the National Mission for Electric Mobility.
She succeeds Shekhar Mande and has been appointed for two years.
About CSIR:
It was set up in 1942as an autonomous body (under the Societies Registration Act, 1860).
CSIR is now the largest government funded multi-disciplinary industrial research and development (R&D) organisation in India.
It comes under the administrative supervision of the Ministry of Science and Technology, Government of India.
The R&D activities of CSIR include aerospace engineering, structural engineering, ocean sciences, life sciences, metallurgy, chemicals, mining, food, petroleum, leather and environmental science.
CSIR is headquartered in New Delhi.
CSIR@80: Vision and Strategy 2022 - New CSIR for New India: Under this, the CSIR's vision is to pursue -

Science which strives for global impact,
The technology that enables innovation-driven industry,
The technology that fosters multidisciplinary leadership, catalysing inclusive economic development for the people of India.
Verifying, please be patient.