AUSTRALIA GROUP (AG)
What is Australia Group (AG)?
The Australia Group (AG) is an informal forum of countries which, through the harmonisation of export controls, seeks to ensure that exports do not contribute to the development of chemical or biological weapons.
Coordination of national export control measures assists Australia Group participants to fulfil their obligations under the Chemical Weapons Convention and the Biological and Toxin Weapons Convention to the fullest extent possible.
This is achieved by members through the harmonisation of export controls like using licensing measures.
When was it established?
It was established in the background of use of chemical weapons (in the form of nerve agents and sulphur mustard) by Iraq in the Iran-Iraq war in the 1980s.
Members: 42 countries + European Union
Argentina, Australia, Austria, Belgium, Bulgaria, Canada, Croatia, Cyprus, Czech Republic, Denmark, Estonia, European Union, Finland, France, Germany, Greece, Hungary, Iceland, Ireland, Italy, Japan, Republic of Korea, Latvia, Lithuania, Luxembourg, Malta, Mexico, Netherlands, New Zealand, Norway, Poland, Portugal, Romania, Slovakia, Slovenia, Spain, Sweden, Switzerland, Turkey, Ukraine, United Kingdom, and United States.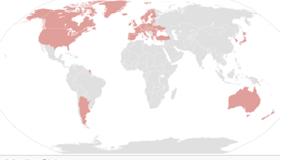 All member countries are members of the
Biological and Toxins Weapons Convention (BTWC) and
Chemical Weapons Convention (CWC)
How does it work?
Australia Group gives a set of guidelines and a technology list to its participant countries.
The participant countries are supposed to incorporate the guidelines and technology list in their export controls systems.
India and Australia Group (AG)
India is also willing to become a member of the Australia Group. Thus benefits of Australia Group's membership to India are:
1. Preventing WMD in South Asia: Joining the Australia Group would enable India to participate in framing rules to prevent the proliferation of chemical and biological weapons, a concern in volatile South Asia.
2. Boost to NSG membership: Gaining its membership would also help India lobby better for membership in the NSG as many of its members are also members of NSG and will further give credibility.
What are the chances of India becoming a member of Australia Group (AG)?
Getting membership of Australian Group will not be much difficult for India because of following reasons:
• International support:
1. Like the MTCR, the Wassenaar Arrangement and Australia Group do not have China as a member. China is holding up India's membership in the NSG.
2. During a state visit to India in 2010, US had announced US support for India's entry to UN Security Council as well as four multilateral export controls regimes, namely, the Nuclear Suppliers Group (NSG), the Missile Technology Control Regime (MTCR), the Australia Group (AG) and the Wassenaar Arrangement.
• Meets the membership criteria:
1. Member of BTWC and CWC: India is a member of both the Conventions— the Biological and Toxins Weapons Convention (BTWC) and the Chemical Weapons Convention (CWC).
2. Success of Indian biotech industry: India has a growing biotechnology industry in the world market, with a highly refined biological export controls system. Thus meeting the criteria for the membership of the Australia Group may not be difficult for India.
3. Elaborate framework in existence: Additionally, India has implemented all its commitment to WMD non-proliferation through its institutional, legal, and regulatory frameworks. India has the elaborate legal and regulatory framework which includes the Indian Environmental (Protection) Act of 1986, the Drug Policy of 2002, Special Chemicals, Organisms, Materials, Equipment and Technology (SCOMET) List, etc.
Thus the group should be open to India's membership as this would be "a step toward integrating India into global non-proliferation efforts."