Topical Analysis: Evolution of the Tribunal System
In 1976, Articles 323A and 323B were inserted in the Constitution of India through the 42nd Amendment.
Article 323A empowered Parliament to constitute administrative Tribunals (both at central and state level) for adjudication of matters related to recruitment and conditions of service of public servants.
Article 323B specified certain subjects (such as taxation and land reforms) for which Parliament or state legislatures may constitute tribunals by enacting a law.
In 2010, the Supreme Court clarified that the subject matters under Article 323B are not exclusive, and legislatures are empowered to create tribunals on any subject matters under their purview as specified in the Seventh Schedule of the Constitution.
Currently, tribunals have been created both as substitutes to High Courts and as subordinate to High Courts). In the former case, appeals from the decisions of Tribunals (such as the Securities Appellate Tribunal) lie directly with the Supreme Court. In the latter case (such as the Appellate Board under the Copyright Act, 1957), appeals are heard by the corresponding High Court.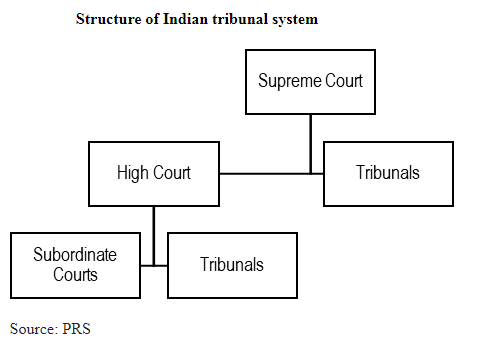 Difference between judicial and quasi-judicial
The judicial and quasi-judicial acts differ from each other as the judicial acts require a proper proceeding of the court and the judge is duty-bound whereas the quasi-judicial acts don't require the courts and decisions taken under them are by the person, who is not a judge.