GST is the biggest tax reform since 1991 when India opened its market first. Potentially one of the most dynamic economies in the developing world, India is hampered by a bewildering array of state-by-state tax codes that discourage doing business across state borders. The GST is widely viewed as a breakthrough that will allow the authorities to confront the problem, eventually creating a more unified economy that will allow businesses to expand nationwide far more easily.
Far from being only a tax reform, design of GST would have far reaching Macro-economic effects. It is expected that in long run Tax to GDP ratio will improve both for centre and states. As a consequence it will improve fiscal health of Centre and States and provide them with wherewithal to improve state capacity in delivery of basic services, augment infrastructure, etc. Another impact will be on ease of doing business which will improve many folds by this reform. Last but not the least, Logistic sector will see far reaching changes which will reduce cost of transportation and increase in competitiveness.
Tax to GDP ratio
A country's tax-GDP ratio is an important indicator that helps to understand how much tax revenue is being collected by the government as compared to the overall size of the economy. A higher tax-GDP ratio gives more room in a government's budget so that it can spend more without borrowing. However, despite many years of high growth, India's tax-GDP ratio continues to remain low. The cursory look at indirect tax-to GDP ratio shows that indirect tax to GDP ratio is around 5% and Direct tax to GDP ratio is at 5.5%. In this context, GST shall increase tax ratio.
It has also been noticed at times that businesses report a different data in their annual VAT return as compared to their Income Tax return. Many businesses deflate the value of profit to attract less income tax liability. Tax evaders who windowdress their books at the year end to lessen their tax liability will find it harder to do so. Such actions were possible before, as the Income Tax Department did not have any access to the data which is filed under the state VAT laws. However, under the new regime, GSTN will be the single repository to all these transactions and the Income Tax Department will have access to such data thus having a clear picture of the total sales and purchases, and eventually the overall profitability, of every business. In this way Direct tax to GDP ratio will improve.
Under the GST law, every sale invoice will get uploaded on the Goods and Services Tax Network's common GST portal. GSTN will ensure a 100% reconciliation of sale invoice of the supplier and the purchase invoice of the buyer. So far, returns filed under the VAT law or CST law do not require validation from the buyer, so we can expect more accurate value being reported under the new regime. This will increase the indirect tax to GDP ratio.
So, new regime makes it tough to evade taxes. This likely to improve the overall compliance rate and would also reduce the size of black economy.
Fiscal Health of States

The successful implementation of GST will result in additional revenue through simpler and easier tax administration, supported by robust and user-friendly IT (information technology) systems and improvement in tax compliance.
Thus the GST is expected to reduce administrative costs for collection of tax revenue and improve revenue efficiency while uniformity in tax rates and procedures will lead to economy in compliance cost.
Revenue Efficiency - It is the amount spent by government to realize a rupee of tax. Expenditure includes expenditure on tax compliance system like salary of revenue officials, establishment cost etc. As compliance under GST is through IT platform, cost of collecting revenue will decline thereby increasing revenue efficiency.
The GST regime will also increase the shareable pool of resources, resulting in transfer of large funds to the states for developmental works. Such an outcome will also ensure debt sustainability of states in the long term. This will be an important outcome because according to recent RBI report on State debt, two states have breached fiscal deficit threshold of 3% as mandated in State level FRBM.
Under GST central cess will be subsumed into the GST and in turn increase the divisible pool of resources which is to the advantage of states. This is because Cess is levied by central government for a specific purpose like education cess to fund SSA. The proceeds go only to Central Government, but these cess are subsumed under GST and GST is collected by both Centre and States hence state revenue shall increase. Similarly, revenue of States will increase as earlier Excise duty on production and Service Tax on services were assigned to Centre but now GST on production and Services will go to States too.
Another aspect of GST which is that GST is a destination based tax. This means that proceeds from tax collection are appropriated by state in which final sale is made irrespective of state in which the product is manufactured. This aspect of GST will improve the fiscal health of the poorest States - for example, Uttar Pradesh, Bihar, and Madhya Pradesh - who happen to be large consumers. These states are expected to generate resources to augment their state capacity in delivering basic services like law and order, Education and Health Services and improve physical infrastructure to attract manufacturing.
Ease of doing Business
Presently, the Central Government levies gamut of taxes like Central Excise duty, Service Tax, CST and states levy tax on retail sales (VAT), entry of goods in the State (Entry Tax), Luxury Tax, Purchase Tax, etc. Large number of taxes created high compliance cost for the taxpayers in the form of number of returns, payments, etc. In fact, it is said that our tax laws have created a situation where business decisions are based on tax considerations rather than logical economical factors. All these issues created a need for one tax that will be able to mitigate number of these problems to a large extent and ease the way business in which is done.
GST impact on Ease Of Doing Business Ranking
The Ease of Doing Business Index is an index created by the World Bank Group. Higher rankings (a low numerical value) indicate better, usually simpler, regulations for businesses and stronger protections of property rights. A nation's ranking on the index is based on the average of 10 sub-indices, which among other includes "Paying Taxes" Index. New GST regime would improve India's rank under this sub-index and consequently ranking in overall Index would improve. India is currently placed at 130 out of 189 countries. The Prime Minister hopes to bring India amongst the top 50 countries on the rankings and GST is a step in this direction.
Specifically, ways in which GST would facilitate ease of doing business are as follows:
Simpler tax regime with fewer exemptions.

Reductions in the multiplicity of taxes that are at present, governing our indirect tax system leading to simplification and uniformity.

Reduction in compliance costs.

No multiple records keeping for a variety of taxes - so lesser investment of resources and manpower in maintaining records.

More efficient neutralization of taxes especially for exports thereby making our products more competitive in the international market and give boost to Indian exports.

Simplified and automated procedures for various processes such as registration, returns, refunds, tax payments, etc.

All interaction to be through the common GSTN portal- so less public interface between tax authorities and tax payer

Timelines to be provided for important activities like obtaining registration, refunds, etc.
Logistics
Logistics is considered to be the backbone of manufacturing and trading activities in the economy. It has a critical role to play for developing countries like India. It can be fairly assumed that a well organized and mature logistics industry has the potential to leapfrog the "Make In India" initiative to its desired position.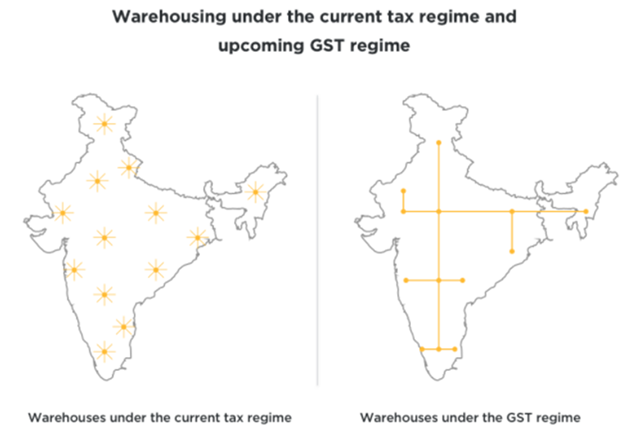 So far, logistics players in India have been maintaining multiple warehouses across states to avoid CST levy and state entry taxes. Most of these warehouses are operating below their capacity and thus adding to their operational inefficiencies. On the other hand movements of truck carrying goods take a lot of time mainly due to stoppage at state check- posts for payment of taxes. India has approximately 600 check posts.
According to a Ministry of Road Transport and Highways (MORTH) study, a typical truck spends nearly 16% of the time at check posts. A truck in India covers an average annual distance of only 85,000 km as compared to 150,000 to 200,000 km in advanced countries. Goods carriage vehicles in India barely travel 280 km per day against a world average of 400 km per day.
However, under GST, most of the current challenges of this industry will be a story of the past as India will become one single market wherein goods can move freely inter-state without any levy. Many companies are expected to migrate from a current strategy of 'multiple warehousing' to the 'hub and spoke' model as tax treatment across India will be same. GST will further bring warehouse consolidation across the country and we can witness mega logistic hubs and high investments in infrastructure wherein 100% FDI has already been allowed. As an outcome of GST, warehouse operators and e-commerce players have already shown interest in setting up their warehouses at strategic locations such as Nagpur, which is the zero mile city of India and is well connected throughout. Another favourable outcome would be seamless movement of Truck across India thus cutting delivery time and cost.

Boost to Make in India

GST will give a major boost to the Government of India's 'Make in India' initiative by making goods or services produced or provided in India competitive in the national and international markets. The currently prevalent Counter-veiling Duty (CVD) on imported goods will be replaced under GST regime by the integrated tax (IGST) which is simply the sum total of Central GST +State GST. This will bring parity in taxation on domestic and imported products, and thereby provide protection to domestic industry.
Under the GST regime, exports will be entirely zero rated, unlike the present system where refund of some taxes is not allowed due to fragmented nature of indirect taxes between the Centre and the States. This means that input tax credit of tax paid on input supplies would be available to the exporter even though no tax is required to be paid on final export supplies. The exporters also have an option to pay IGST on export supplies and claim refund for the same for which a fast track mechanism has been provided. This will boost Indian exports thereby improving the balance of payments position.
Conclusion
It is clear that GST is not only a tax reform but a structural reform which will change the trajectory of growth. It will improve the fiscal capacity of states which would ensure that they do not have to fall back on borrowings to fill the fiscal deficit and for businesses it will make doing business relatively easy which along with changes in logistic sector will improve export competitiveness of Indian products and may put India on the path of 'Export led Growth'.