India and the Global Scenario
A WaterAid report named State of the World's Water 2018, ranked India on the top of 10 countries in the world with 163.1 million inhabitants living without access to safe water close to home.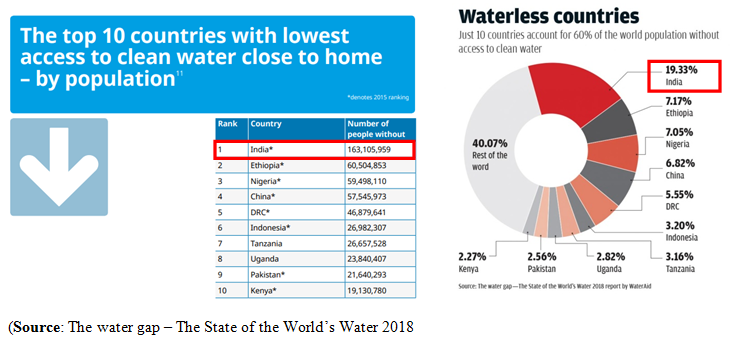 The global commitment to safe water for all is further demonstrated through the Sustainable Development Goal (SDG) 6 target to achieve universal and equitable access to safe and affordable drinking-water for all.
Privatization of water - World Bank and IMF have suggested privatization of water, based on multiple successful examples of water privatization in different parts of the world, including Gulf countries, Latin American as well as European countries. However, India has not formally considered this idea nor there has been any private sector regulation act or rules to regulate the functioning of the private sector. In this context, National Water Framework Law (NWFL) states that, "water is the common heritage of the people of India; an inseparable part of a people's landscape, society, history and culture; and in many cultures, a sacred substance, being venerated in some as a divinity". Such a resource therefore, must never be privatized. Private extraction of groundwater happened in a competitive race to get water from greater and greater depths. Thus, when groundwater is treated as a private resource, it raises a serious issue of destructive competitive extraction. A classic example is that of a soft drinks giant depriving the people of gram panchayat Plachimada in Kerala access to drinking water.