WASSENAAR ARRANGEMENT
What is Wassenaar Arrangement?
The Wassenaar Arrangement was established to contribute to regional and international security and stability by promoting transparency and greater responsibility in transfers of conventional arms and dual-use goods and technologies, thus preventing destabilizing accumulations.
Participating States seek, through their national policies, to ensure that transfers of these items do not contribute to the development or enhancement of military capabilities which undermine these goals, and are not diverted to support such capabilities.
Established in:
It was established in 1996 in Wassenaar, the Netherlands, which is near The Hague.
Members: 41 member states.
Argentina, Australia, Austria, Belgium, Bulgaria, Canada, Croatia, Czech Republic, Denmark, Estonia, Finland, France, Germany, Greece, Hungary, Ireland, Italy, Japan, Latvia, Lithuania, Luxembourg, Malta, Mexico, Netherlands, New Zealand, Norway, Poland, Portugal, Republic of Korea, Romania, Russian Federation, Slovakia, Slovenia, South Africa, Spain, Sweden, Switzerland, Turkey, Ukraine, United Kingdom and United States.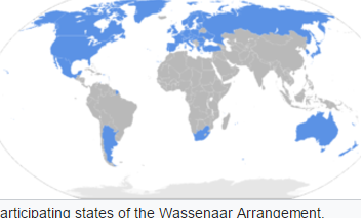 India and Wassenaar arrangement
India is also willing to become a member of the Wassenaar Arrangement. Benefits of Wassenaar Arrangement's membership:
1. Access to dual-use technologies: Membership of the Wassenaar Arrangement would open up access to dual-use technologies - that can be used for both civil and military purposes - in aerospace, telecommunications, navigation, computing, electronics, sensors and lasers.
2. Boost to NSG membership: Gaining its membership would also help India lobby better for membership in the NSG as many of its members are also members of NSG and will further give credibility.
What are the chances of India becoming a member of Wassenaar Arrangement?
Getting membership of Australian group will be not be much difficult for India because of following reasons:
• International support:
1. Like the MTCR, the Wassenaar Arrangement and Australia group don't have China as a member. China is holding up India's membership in the NSG.
• Meets the membership criteria:
1. India has impeccable non-proliferation record, which stood it in good stead during the deliberations on NSG waiver.
2. India had passed the Weapons of Mass Destruction and their Delivery
Systems (Prohibition of Unlawful Activities) Act in June 2005, fulfilling its obligations under UNSC Resolution 1540, which required UN member states to enact domestic legislation to better account for WMD materials and technology.
3. In the Joint Statement issued in 2010 between india and U.S.,the US notes that in its view, "India should qualify for membership in the Australia Group and the Wassenaar Arrangement according to existing requirements once it imposes export controls over all items on these regimes' control lists."
Thus the group should be open to India's membership as this would be "a step toward integrating India into global non-proliferation efforts."