India to launch its First Private Rocket
Context
India's first privately developed rocket "Vikram-S" is set for launch.
Details:
The maiden mission of Skyroot Aerospace, named 'Prarambh', will be launched from ISRO's launchpad at Sriharikota.
Collaborative support of ISRO and IN-SPACe (Indian National Space Promotion and Authorisation Centre) has made this mission ready in a short span of time.
Skyroot Aerospace Private Limited is an Indian private aerospace manufacturer and commercial launch service provider headquartered in Hyderabad.
Vikram-S rocket:
It is a single-stage sub-orbital launch vehicle.
It will be carrying three customer payloads and help test and validate the majority of the technologies in the Vikram series of space launch vehicles.
Skyroot's launch vehicles are named 'Vikram' as a tribute to the founder of the Indian space programme and renowned scientist Vikram Sarabhai.
Significance: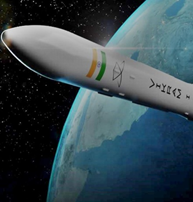 Skyroot Aerospace is set to become the first private space company in India to launch a rocket into space.
It will herald a new era for the space sector which was opened up in 2020 to facilitate private sector participation.
Government's Initiatives promoting private players in space sector:
New Space India Limited (NSIL): Announced in Budget 2019, it aims to use research and development carried out by ISRO over the years for commercial purposes through Indian industry partners
IN-SPACE:
IN-SPACe was launched to provide a level playing field for private companies to use Indian space infrastructure.
It acts as a single-point interface between the Indian Space Research Organisation (ISRO), and everyone who wants to participate in space-related activities or use India's space resources.
Indian Space Association (ISpA): ISpA aspires to be the collective voice of the Indian Space industry. ISpA will be represented by leading domestic and global corporations that have advanced capabilities in space and satellite technologies.