Unauthorised use of 4 highly hazardous pesticides: Study
Context
According to a recent report, safety of agricultural produce and environmental contamination is at risk due to the rampant use of four highly hazardous pesticides (HHP).
About
What pesticides are getting overused?
Chlorpyrifos
Fipronil
Atrazine
Paraquat
The Report
Report title: State Of Chlorpyrifos, Fipronil, Atrazine and Paraquat Dichloride in India
Developed by: Pesticide Action Network (PAN), a non-profit that works on eliminating human and environmental hazards caused by pesticides.
Released by: Indian Council of Agricultural Research.

ICAR is the apex body for agricultural research in India.
Highly Hazardous Pesticides (HHP):
Definition as per International Code of Conduct on Pesticide Management, adopted by FAO and WHO in 2013: "Highly Hazardous Pesticides means pesticides that are acknowledged to present particularly high levels of acute or chronic hazards to health or environment according to internationally accepted classification systems such as WHO or GHS or their listing in relevant binding international agreements or conventions. In addition, pesticides that appear to cause severe or irreversible harm to health or the environment under conditions of use in a country may be considered to be and treated as highly hazardous".
Key findings:
The HHPs are approved for use in the country for only specific crop-pest combinations.
However, they are being used for several food and non-food crops without approval.
Chlorpyrifos is approved for 18 crops in India, while the study found it was used for 23 crops.
Fipronil is approved for nine crops but was used in fields for 27 crops.
Similarly, atrazine and paraquat dichloride are approved for one and 11 crops, respectively, but field uses were noted for 19 and 23 crops, respectively.
About 20 per cent farmers and 44 per cent workers who participated in the study reported exposure and poor health.
About 40% of the total registered pesticides in India are categorised as highly hazardous owing to their potential to cause health and environmental damage.
About PAN India
Pesticide Action Network (PAN) India, founded as an independent national non-profit organisation in India in 2013.
It works in collaboration with Pesticide Action Network (PAN) International Community, sharing knowledge and expertise to eliminate the human and environmental hazards caused by pesticides.
The organization is focusing to bring changes in the way chemical pesticides are used harming life and environment.
It aims to help farmers to reduce dependence on toxic chemicals and to increase the use of sustainable alternatives to chemical pest control based on scientific knowledge.
PAN India is working towards sustainable and diverse agro ecosystems; and to support farmers in conserving traditional knowledge, farming systems and agro biodiversity.
Primarily PAN India focus on generating and sharing knowledge related to chemical pesticides such as farm level actual practice, health and environmental effects, alternatives to hazardous chemicals, etc.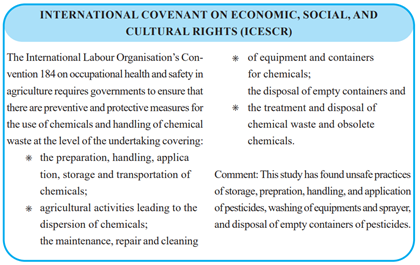 Verifying, please be patient.